XRIT2PIC
Xrit2pic is a datamanager/processor for satellite pictures broadcasted by Eumetsat. Currently following data types are supported:
HRIT
LRIT
Plain 10-bits per pixel format
Plain 8-bits per pixel format
AVHRR NOAA (bzip2'ed or not)
AVHRR METOP (EPS format)
Messages (text)
JPEG files with naming style of files generated by MSG Data Manager of David Taylor
DWDSAT (limited)
Xrit2pic reads data, supplied by Eumetsat in some way, e.g.:
Eumetcast / Hotbird
MSG-2 etc.
ftp
DVD, CDROM etc.
Some features:
Read, sort and delete selected data as they are received
Show pictures of a selected channel while data is received
Data processing:

false colour of any combination of channels
Anaglyphs: 3D pictures
Overlay of country boundaries

View and export processed data as:

picture files (PGM, JPEG)
movies (AVI)

Non-gui mode for translating images using batch files
Data processing is done directly from the raw data; for HRIT and AVHRR all 10 bits are used.

Xrit2pic is freeware; executables are available for Linux, Windows and SUN/Solaris.

Comments are always welcome. For more information and downloads see:

For HRPT/CHRPT systems see: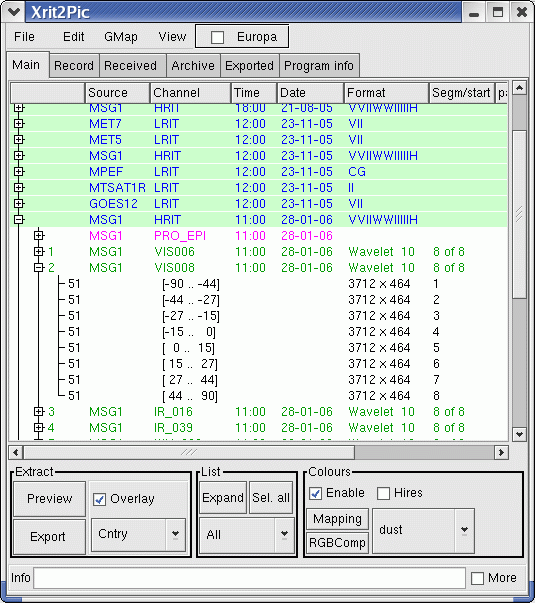 ---
View My Stats