LEO scripts
The scripts available in SPStools/LEOscripts are for one area/composite(set) only. You need to copy scripts to another filename for each different area/composite-set you want.

Instead (or also) you can use the scripts described below. These LEO-scripts are very similar to the original ones, but they contain options for composite, area etc.
So no need to copy/maintain multiple scripts for each satellite.

The LEOstuff.py available here is very similar to the original one, but it contains support for:
corretion 'dt += timedelta(minutes = 3)'
auto-download of TLE's, also for dates in the past
out-of-service sats like Metop-A.
If you don't need that you can use the original LEOstuff.py.

Usage

 ./<script>.py [-h] [-t T] [-dn DN] [-sat SAT] [-mp MP] [-histtle] [-src SRC] [-dst DST] [-o O] [-area AREA] [-composite COMPOSITE]


  -h, --help            show this help message and exit
  -t T                  time: YYYYmmDD
  -dn DN                D|N, D=Day, N=Night
  -sat SAT              A|B|C|X
  -mp [MP]              do multipass
  -histtle [HISTTLE]    get historical tle from spacetrack
  -src SRC              source dir., MUST be absolute path!
  -b B                  bulk: y|n.
  -dst DST              destination dir.
  -o O                  output file
  -area AREA            area 
  -composite COMPOSITE  composite 
  -v [V]                Start viewer

Selector for satpy
NOTE: needs to be tested on Windows!
Updated 26-04-2023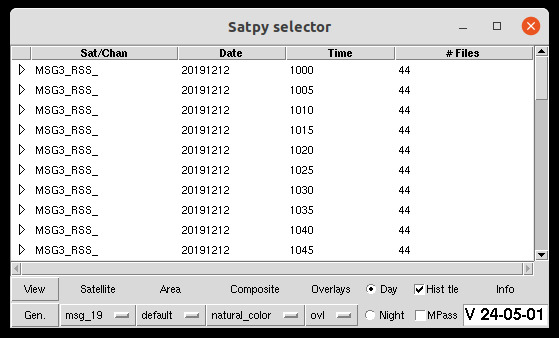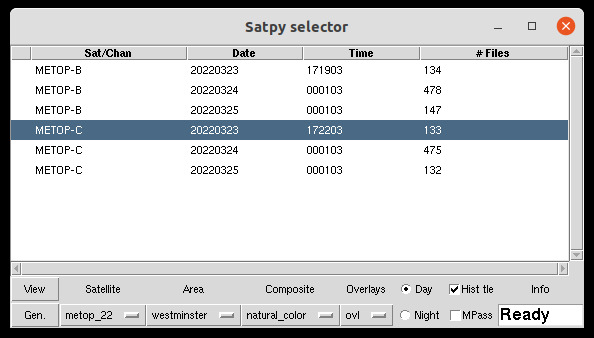 Now:
Select type of satellite, this will refresh the list of available data
Select a line in the list of available data
for polar sats choose day or night
choose an area (default=built-in defaults in the used script)
choose a composite (default=built-in defaults in the used script)
click 'View', will generate an image and open a viewer
Or click 'Gen', will only generate an image
Best is to start this in a command shell so you can see (error-)messages generated by the activated scripts, and also the path+name of the generated image file.

satpy_selector.py contains 2 lists of satellites including the command to execute them:

Don't change these lists. Note variable exe_cmd. You can choose here 2 methods to execute the scripts:
exe_cmd=''

This executes scripts like MSG.py. The scripts must be at a location included in the searchpath and must be executable

exe_cmd='python3 <full_path_to_scripts>'

This executes scripts like python3 /home/user/tools/MSG.py (if <full_path_to_scripts> is /home/user/tools/)
satpy_selector.py uses lists defined in satpy_settings.py:
data_loc: contains name and location of files. Name may be any name you like; location must be full path. A location normally should contain data of one satellite, but may also contain a mix of different satellites.
regio_list: this list contains area's bound by min/max lon and lat. It is used to divide the very long list of area's, defined in the areas.yaml files, into manageble portions. You may adapt this list, including names and area def's. The result is used to create a 2-steps menu 'area' in satpy_selector.py:

composite_list: list of available composites for each satellite. This list may be adapted/extended; not all composites may be added yet.
The Composite menu is created/adapted if another satellite is choosen.
Note: For directories, for windows, use '/', not '\'.
---
New:
If a geostationair satellite is choosen then, if channels are in different files, these will be added as sub-items in the tree: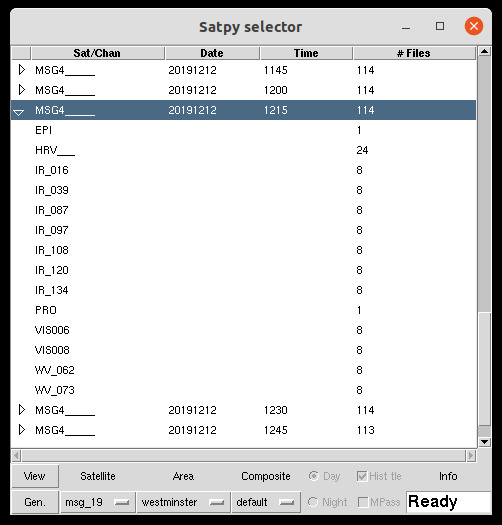 If a polar satellite is choosen and earthmap.gif exists then the track and selected area will be shown: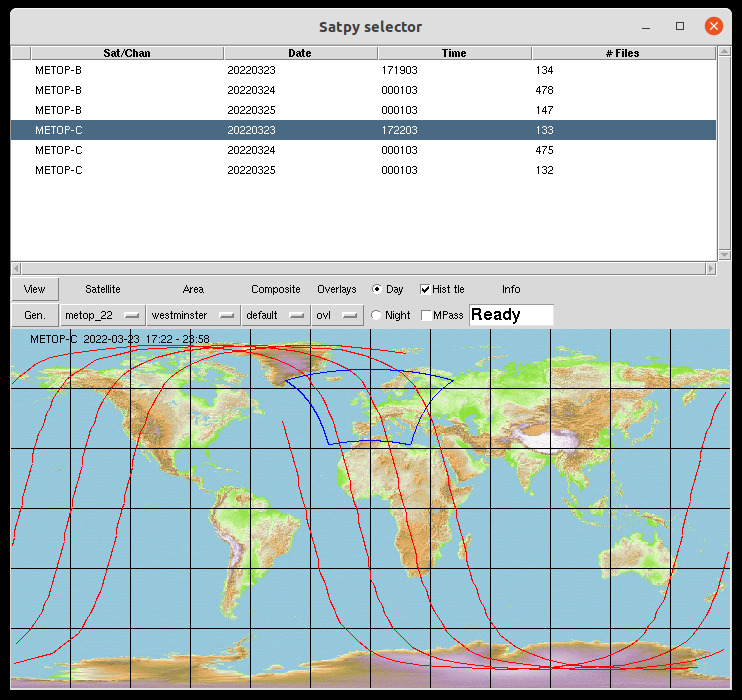 ---
Location of files
The main .py files (MSG.py, Metop.py etc.) are all executable. You may put them in a location pointed to by searchpath (Linux: $PATH) and then execute them from anywhere like:

Metop.py -t .......(etc.)


Or:

python3 <path_to_py>/Metop.py -t .....

in which case you need to add the location of the .py files.
Files used by the main .py files need to be put at the same location:
Location satpy_selector.py: same location as for Metop.py etc.
---
Area visualizer for satpy
This is a simple gui which shows all satpy-defined area's on an earth map. User-area's are also shown; all areas.yaml files known by satpy are used.
Zip-file contains both Python-script and an example earthmap file, but you can use any plate carree map with any size (width=2x height). No SPStool files are needed, just the satpy installation.

(Note: this is also implemented in the satpy_selector, which shows then both track of selected satellite and selected area.)

Usage:

  -h, --help  show this help message and exit
  -s S        size (multiplier fact.) image (1=org. size)
  -f F        plate carree image file
  -ac AC      colour area
  -m [M]      use menu instead of buttons

Download: satpy_areavis.zip
(contains satpy_areavis.py and earthmap.gif)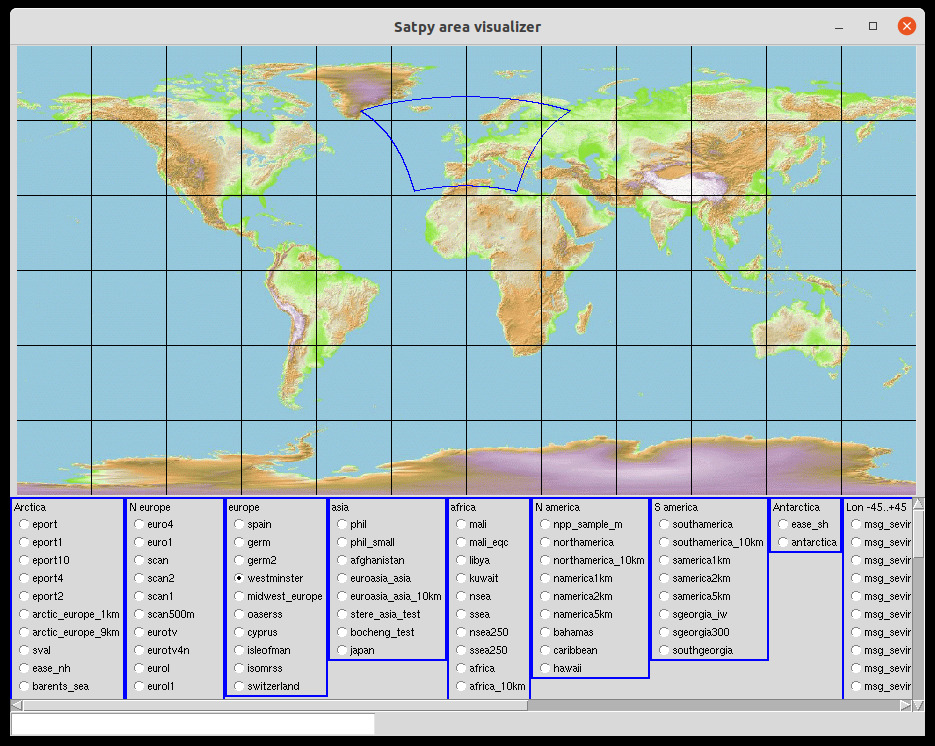 ---
Problems with tkinter
If your OS is Ubuntu then try this:
sudo apt-get install python3-tk
See also https://realpython.com/python-gui-tkinter