Introduction.
xrit2pic is a program to handle HRIT/LRIT/AVHRR data, broadcasted by Eumetsat via satellite and internet. Data formats supported include:
HRIT and LRIT, used by the new Meteosat Second Generation (MSG, like Meteosat-8 etc.).
Himawari: Japanese weather satellite located at 140.7 east
Data of older satellites like Meteosat 7 and earlier, GOES and MTSATR, formatted as LRIT
LRIT of American geostationair satellites
AVHRR of polar satellites:

NOAA (formatted as bzipped HRPT)
METOP (formatted as EPS)

DWDSAT: limited support
Picture-data can be viewed directly, or translated into standard picture formats.
Xrit2pic can perform some simple dataprocessing; e.g. false colour pictures may be generated by mapping multiple channels onto different colours. Some dedicated mappings (e.g. fog and dust detection) are built-in. (Currently only working for MSG.)
Xrit2pic can also generate anaglyphs (3D images); the luminance is translated into altitude.
Movie generation is implemented, and is also possible in combination with all mentioned features.
For polar satellites tracks may be plotted on a world map; selection of parts of a track to view or export is supported.
All data processing is done using directly the received raw files, so without generation of intermediate files.
Next figure shows the place of xrit2pic in a MSG receiving environment.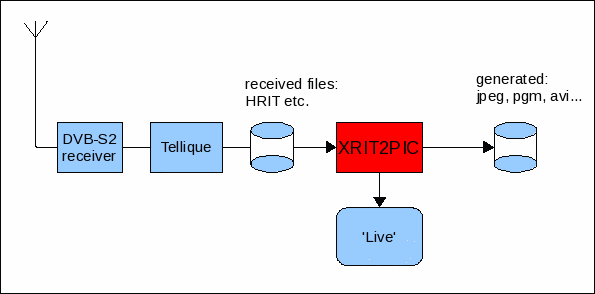 The receiver must be a DVB-S2 / VMBR type. There are ethernet types (SR1 of Ayecka) and several USB types, as well as PCI cards.
The Tellique software extracts data from the tuner and places it onto the disc. This program is available at Eumetsat. Note that to receive all data a encription key (EKU) is needed; without this key only the so-called 'essential data' is available:

essential MSG data: 0:00, 6:00, 12:00 and 18:00, so just 4 pictures each day
licensed data (EKU needed): each 15 minutes (MSG) or each 5 minutes (RSS), so 96 or 288 pictures each day
For more information see:

Note: This is just an example; data coming from the Eumetsat ftp service, located on a CDROM etc. are equally suitable to manage by xrit2pic.
Xrit2pic doesn't need much PC memory; normally way under 1G. Executing several xrit2pic's in parallel is no problem. Note, however, that xrit2pic can delete (on request, of course) or move files; if a second xrit2pic is using the same data it can get "confused" (but should not crash!).
Settings.
xrit2pic has default settings for about everything. They may be changed in the Preferences part; user settings are saved in xrit2pic.ini stored in the directory where the program is started.

Some tabs contain a 'Save' button, to store the settings in that tab. Currently this is done for the 'main' tab (under 'More'), 'Record' tab, and 'Received' tab. (This replaces the 'gui state sav' option in previous versions of xrit2pic.)

There are 3 places where xrit2pic.ini and xrit2pic.gini are searched after starting xrit2pic:
Directory where xrit2pic is started
In $HOME directory (Windows: C:\)
On same location as where the program is installed
The first xrit2pic.ini/xrit2pic.gini file found is taken.

The 2 most important settings are:
Source location: Place where Tellique dumps the files; by default:

Linux: from_msg/received
Windows: c:\Program Files\T-Systems\Business TV-IP\received\

Destination location: place where translated pictures are dumped; by default:

Linux: the location where the program is started.
Windows: C:\
Both files are in ASCII, so they may be changed using a text editor, if desired. For more information about settings see chapter
Selecting button 'Mapping' pops up a window in which you can change the mapping:
Also see next chapter 'Special mappings window'; in here, the mappings are set (and can be altered if desired).