AVI file Windows problem.
If Windows Explorer crashes after entering a directory containing a avi file generated by xrit2pic:
Execute the following command in a command shell:
regsvr32 /u shmedia.dll
This prevents Windows Explorer from analyzing avi files. (Note: As far as I know this is a Windows Explorer bug. On my Windows-XP I don't see this problem.)
---
Quick reference guide.
Using xrit2pic in combination with MDM.
It is not possible to let both xrit2pic and MDM both act from the 'received' directory at the same time. If MDM is used for MSG data management then xrit2pic can still be used as post-processor. Xrit2pic can read the jpeg files created by MDM from the original received files. Drawback is that jpeg-files are lossy. Especially with low luminance values and/or zoomed in the quality is noticeable degraded compared to using the original received files.

NOTE: If temperatures are important, e.g. if the special mappings (airmass, dust etc.) are used, make sure that MDM translates all needed IR-files into mode-A Temperature coding. By default this is the case, except fow the 2 WV channels!

What to do:
Find out the location where MDM puts the JPEG files.
In xrit2pic, open the Preferences window (menu Edit->Preferences).
Go to tab "Directories".
Enter the directory containing the top of the tree containing the JPEG files, in box "Archive directory". Add full pathname. E.g.:
Suppose your JPEG files are under c:\HRIT\2007\06\01 etc.
The path to enter is: c:\HRIT

Click on 'Save it', to save this setting, and close the Preferences window.
Stop and Restart xrit2pic.
Go to tab "Archive". In the left part you will see the 'Years' directory.
Open this tree item to see the month folders.
If you want to see more click on 'Update'. This will update the tree with all subdirectories and file count.
Select one or more days directories containing files you want to process.
Click on "Load selected".
Now xrit2pic jumps to the Main tab and you can do the data processing.
---
---
Tips and tricks.
Preview drawing.
In Preview: No need to wait for draw finishing; during drawing you can already give zoom actions: set cursor on area you want to zoom in, and type I , wait for reaction. Zoom is done as soon as processing of a segment is finished, so this may need a few secs.
Stop drawing: Press escape until the upper-right red "led" is off.
---
Setting fixed zoom boundaries
There are 2 ways to enter/define fixed zoom area's. These area's can be choosen:
gui mode: using the 'Area' pull-down menu at top of the xrit2pic window
no-guimode: using option -area &lt nr> or -area &lt name>
Defining area's can be done:
in Preferences, tab 'Mappings': max. of 4 areas's may be choosen by defining the center longitude/latitude and the width/height using delta longitude/latitude.
These delta's are valid relative to the center point.
From version 2017.4 on: In the xrit2pic.ini file, max. of 50 area's may be defined. The first 4 are equal to the 4 which can be set in the Preferences gui.
Example:
lon=5, lat=52, delta lon =20, delta lat=15:
At centre point (lon,lat)=(5,52):
lat-range is 52-10 ... 52+10

lon-range is 5-15 ... 5+15.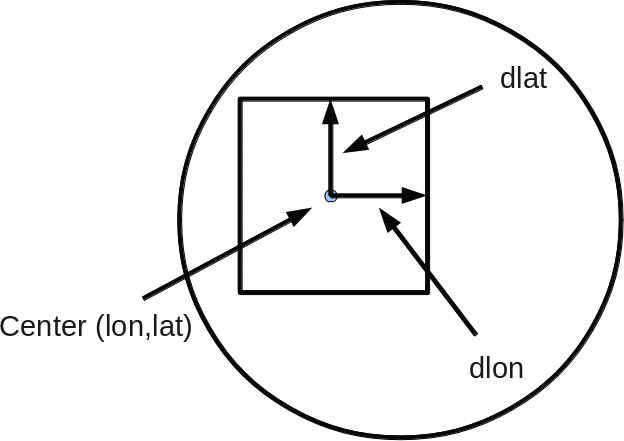 Defining area's in Prefercnces The format is:

area<x>=(name=<name>", clon=<center_lon>, clat=<center_lon>, dlon=<delta_lon>, dlat=<delta_lat>

Example:

area1=(name=Europe, clon=6.00, clat=56.00, dlon=19.70, dlat=21.00
area2=(name="Atlantic 2", clon=-18.00, clat=42.00, dlon=19.70, dlat=20.00
area50=(name="North west", clon=-142.00, clat=52.00, dlon=20.00, dlat=20.00

Note:
Area nr's may contain 'gaps', like in the example where nr. 3 to nr. 49 are not defined.
Spaces in names are allowed, but the name must then be enclosed between parantheses. See area2 in the example.
From command line, using -area <name>, the name must then also be enclosed between parantheses.
A line starting with '#' is treated as comment and thus ignored.
But note that if in gui preferences is saved this comment line will be lost.
---
Unexpected behaviour.
A mix of data with different sizes may give sometimes problems. For example, GOES data may cover different parts: full disk, northern part etc. If a mix of this data is selected and then used to export images, then this willl give different results for the different GOES data, of course.
But if the Preview button from the 'Files' pop-up is used to zoom in an area covered by all selected GOES items then only the first image will give the expected zoomed area, the others not. Making a movie this way is therefore not possible.
This problem can be solved by defining/using a fixed area covered by all types of images. Now the different GOES data can be used to create images of the same part, or to create a movie. Also if the preview button is used.

Background: preview defines the area relative to the x/y positions of the image, not using actual position.
Defining an area does use actual earth positions, resulting in equally located parts of each source.