shortkey
function
z
Zoom; click on 2 opposite corners of virtual rectangle
(right-mouse button: cancel)
Z
Zoom fixed; move rectangle to part of picture in which to zoom anc click
(right-mouse button: cancel)
(See preferences to change fixed-zoom factor.)
{Ctrl}
Zoom fixed; see 'Z'
f
full picture (zx=zy=1)
i
zoom in fixed (default: 2x; see preferences)
o
zoom out fixed (default: 2x; see preferences)
l
last (previous) zoom
c
dx->dy: Make pixel-size dx equal to dy
C
dy->dx: Make pixel-size dy equal to dx


zx->zy: Make zoom-factor zx equal to zy


zy->zx: Make zoom-factor zy equal to zx
Raw
Records raw data from parallel port. Not for a specific format.
Bytes from parallel port are dumped in a file, without headers, frame separations etc.

This option is ment for MSG, but can also be used to put raw HRI or HRPT data on disk. With HRPT just the 8 MSB's are recorded (2 LSB's are lost), and channel selection has to be done using the HRPT recording window or with switches on the hardware. (If there is a need to record all 10 bits in raw format let me know.)

The picture on screen during record shows 2048 pixels per line. HRPT and HRI are not shown correctly; MSG recording will (should) show a vertical structure in 8 of the 2048 pixels per line.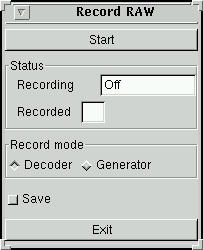 ---