Eumetcast supporting software for Linux: ecast_cfg
ecast_cfg is a gui managing Eumetcast reception for Linux kernel 2.6. Especially handy if you want to have start/stop and channel choice under manual control.

Each Eumetcast channel transmitted is tagged with a certain PID, and IP destination address. ecast_cfg uses the IP address to decide if the channel has to be routed to Tellicast or not, depending on the selection made in the gui.

The tool can be used for both USB and ethernet receivers.

Tested with USB device: Opera DVB-S
Tested with ethernet device: Ayecka

Related tool for selection by altering recv-channels.ini:
tqchansel: channel selection for Windows
---
Features
for USB devices:

Receiver:

Tune and start receiver
Show signal strength, SNR, Bit Error Rate

PID settings:

read PID's from config file and set-up PID routing
Show traffic on each PID
for USB and ethernet devices:

Selection of channels:

Dividing channels in "important" and rest
Add user-friendly channel names to 'important' channels
Select channels to receive

Tellicast:

Start/stop pcscd, etoken, Tellicast
Show last part of log-file
A screenshot: (mode "USB device")
Channels selected; Tellicast is running.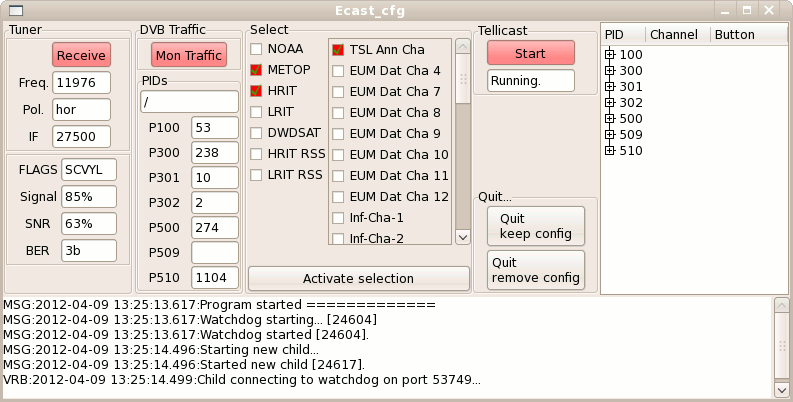 In ethernet mode the 'Tuner' and 'DVB Traffic' part are missing.
---
Description
ecast_cfg uses the commands and methodology described here.
The dvb related tools (dvbnet, dvbtraffic) and femon are integrated (no system calls); other tools (szap, ifconfig, smcroute) are activated by system calls.

A difference compared to the other mentioned tools (tqchansel, msgreceive) is that channel selection is not done by changing the recv-channels.ini file. Instead actual routing is adapted, using smcroute. The recv-channels.ini needs therefore to enable all channels.
Start of tool
ecast_cfg can run in 2 modes:
USB mode; traffic from USB receiver to Tellicast is managed. (virtual ethernet)
Ethernet mode; traffic from a physical ethernet port to Tellicast is managed.
The mode is defined using commandline option:
default (no option): USB mode
option -eth <portname>: ethernet mode. E.g. option -eth eth1 will use port eth1 as source.
At start ecast_cfg first reads the config-files dvb-eumetcast.cfg(USB mode) and eumetcast-channels.cfg; the last one is used to set-up the gui. Because some channel names are not very clear (e.g. "EUMETSAT Data Channel 2" for the channel carrying HRIT MSG2) a more convenient name mapping can be defined by the user, in file eumetcast_buttonnames.cfg. Each line in this file should define the original name and the desired button name, between quotes, e.g.:
"EUMETSAT Data Channel 2" "HRIT"
ecast_cfg will use this file for 3 purposes:
Show the user-defined name near the selection button instead of an (abbreviation) of the original name
Make a separate list of these selection bottons. All remaining channels are available in a second (scrollable) list.
Sort buttons using eumetcast_buttonnames.cfg instead of the order in the eumetcast-channels.cfg file
A list of actions done by ecast_cfg:
When
Mode
Action
Using
program start
USB
PID filtering
dvbnet-like function
USB
connect PID to IP
ifconfig
USB
set-up multicast routing
ifconfig
USB,ETH
start smcroute daemon
smcroute -d
by user
USB
start receiver
button receive
USB
show traffic
button Mon Traffic
USB,ETH
select channels
buttons under Select
USB,ETH
activate selection
button Activate selection
USB,ETH
start/stop Tellicast
button Start under Tellicast
program stop
USB,ETH
stop Tellicast
button Quit removing config
USB,ETH
remove all routing, filtering etc.
USB,ETH
stop receiving
USB,ETH
keep all settings, continue receiving
button Quit keep config
At restart ecast_cfg will examine which channel selection was kept at stop (using ip mroute) and the state of all selection buttons will be restored.
---
Download
Version
Type
Download
Size
Comment
v2_0
Eumetcast config
channel select
start/stop
ecast_cfg
304k
Linux only
v1_0
Eumetcast config
channel select
start/stop
ecast_cfg_v1.tgz
320k
Linux only
---
Installation
In short:
Download ecast_cfg.tgz
tar -zxf ecast_cfg.tgz, this will give:

ecast_cfg: the executable
libdvbapi.so: extra lib needed for dvb-related commands
eumetcast_buttonnames.cfg: example file to map user names to channels; change to your wishes
eumetcast-receiver.cfg: contains receiver info

Put libdvbapi.so into /usr/lib Put the 3 remaining files into one directory, e.g. $HOME/bin.

Install the tools from the eumetsat CD.
Remaining needed tools are usually already present (part of normal Linux distro)
---
In more detail:
ecast_cfg uses the gtk toolkit (gtk2.0), which is present at about each Linux installation.


The following tools are used:
| toolname | Mode | description | source |
| --- | --- | --- | --- |
| szap | USB | Tuner config | Linux-distro |
| pkill, pgrep | USB | others | Linux-distro |
| ifconfig | USB | configure network | Linux-distro |
| smcroute | USB,ETH | Static Multicast Router | Linux-distro |
| pcscd | USB,ETH | pcsc server | Linux/Eumetsat script |
| etokend | USB,ETH | Aladdin eToken | Linux/Eumetsat script |
| tellicast-client | USB,ETH | Tellicast | Eumetsat |
The following files are used:
filename
Mode
description
source
eumetcast-receiver.cfg
USB
Tuner config. (frequency etc.)
attached to tarbal
dvb-eumetcast.cfg
USB
IP mc-addresses etc.
Eumetsat
eumetcast-channels.cfg
USB,ETH
eumetcast channels
Eumetsat
eumetcast_buttonnames.cfg
USB,ETH
User channel names
example attached to tarbal
All files are searched first in the start-dir., if not present then in /etc.
---
Usage
Note: Tools like smcroute, used by ecast_cfg, probably need root privileges. In that case ecast_cfg needs to be started as root.
Start ecast_cfg
Click on 'receive'. Note signal strenhth etc; BER should be 0 or close to 0.
Click on 'Mon Traffic'. Each PID should show changing numbers. They show received data in kb/sec.
Note that this is for information only; you don't need to keep this info running.
Select desired channels and then click on 'Activate selection'. The selected buttons should change colour to red.
NOTE: up to now nothing is saved to harddisk!
under 'Tellicast': Click on 'Start'. Now data of selected channels will be stored onto disk.
Check the log section at the bottom; these are the last few lines in recv.log.
If you see that Tellicast stops, with message:
Cannot resolve own ip address then start a new command shell and give following command:
hostname localhost.localdomain
Note: The tree in the most right part is for information only. See screenshot below: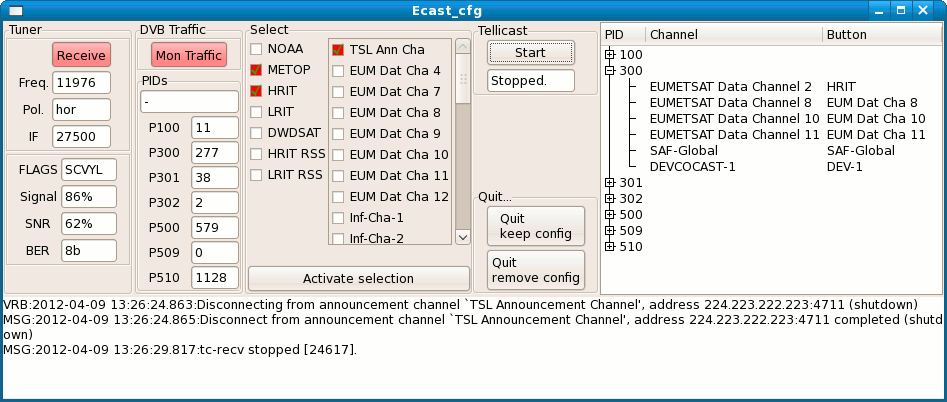 ---
Eumetcast network between receiver and Tellicast
(Click on image to enlarge.)