Controller for Signal generator
Using info sniffed by karl-heinzschweikert7593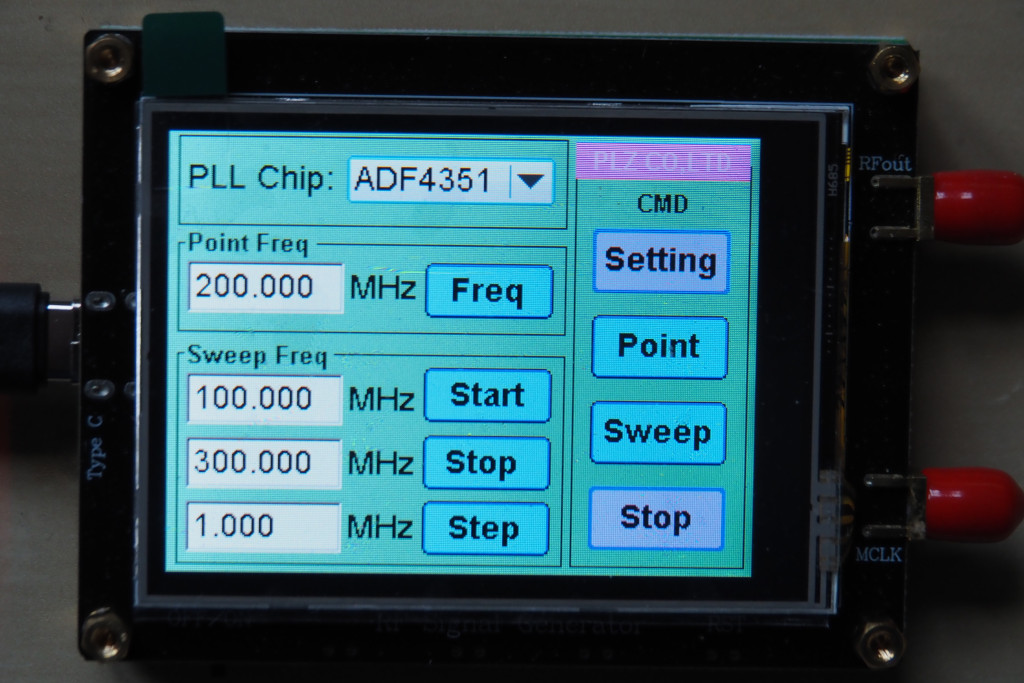 Installation:
Python: You need a Python installation. Defaults can be altered in the first 25 lines.
Linux: gtk2.0 needed; tar -zxf siggen.tgz, place adf435x_ctrl e.g. in your bin dir.
Windows: download and install also setup_gtk20dll.exe, put adf435x_ctrl.exe at the same location. Make a starup-icon, here you can add the options for different defaults.
---
| | | | |
| --- | --- | --- | --- |
| | | | |
Usage
First Connect, see Settings to alter port nr.
Point mode:

Choose level and frequency
Click Start
Step up and down using 'Up', 'Down' buttons, with step as set near 'step freq'
Start/stop, no need to stop if frequency is changed

Sweep mode:

Set start/stop/step frequency
Click Start

Sweep2 mode:

Sweep using Point mode
Same as sweep mode, but sweep controlled by adf435x controller
Extra: Set step speed
---
---
Options for default values:
option
example
comments
-rf <ref-freq>
-p 26.0
in MHz
-l <level>
-l -9
0,-3,-6,-9
-f <frequency>
-f 141.12
in MHz
-fa <start frequency>
-fa 100.0
in MHz
-fb <stop frequency>
-fb 200.0
in MHz
-fs <step frequency>
-fs 10.0
in MHz
---
Note:
Some generators have 26 MHz reference instead of 25 MHz.
Some generators have wrong start/stop frequencies. Correcting this by changing the reference signal results in 'hicks' at certain frequencies during sweep.